BA have a lot to answer for, providing unlimited alcohol during their flight to Cancun! The drink was flowing and my Scottish genes could not resist. I managed to abstain for the final 2 hours of the 10 hour flight and just about looked respectable as I passed through immigration.
The alarm sounded at 5am the next morning and our adventure was underway. Our party of 5, hosted by Gavin Hodgson, were soon whistled away by mini-bus for a full Mexican breakfast in Tulum.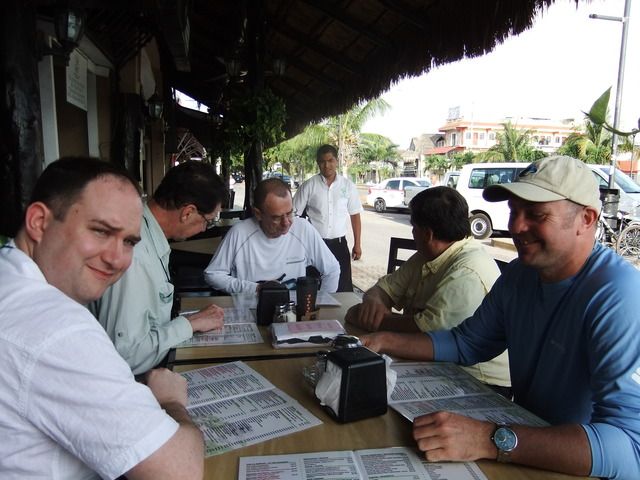 Next leg of the journey was a short hop along the road from Tulum to Punta Allen. Fortunately, we were spared the full, bumpy 1.5 hour trip along this dirt track thanks to our guides bringing the 'Panga boats' through Ascension bay to pick us up just south of Tulum. Rods were assembled by the water under an already intense sun, leaders and flies attached and the excited party set forth into Ascension Bay. Bones were our initial quarry, providing opportunity to sharpen rusty reactions and casting and it was not long before the first fish came on board. It is 5 years since I last felt the screaming run of a bonefish and I had to ask myself why I waited so long! Doug ,my boat partner for the day and I took turns at the front of the boat, fishing either for half an hour or until a bone was caught before swapping places. I don't think we reached the half hour point that morning.
Doug plays his first bone of the trip
Following a short break for lunch, the action continued. Sadly I was snapped-off by what felt like a decent fish and the guide selected a Gotcha with coyote wing and pink legs of my own tying. The fly quickly accounted for another bone and a ridiculously powerful jack before Pablo the guide uttered the words I have longed to hear....'Palometa'. Our Mayan guides may be diminutive but they are stocky blighters and Pablo used the pole to pull the boat alongside the Palometa. My first cast came to land a few feet behind the fish, fortunately without spooking it. Pablo pushed harder with the pole and I was able to deposit the fly some 10 feet ahead of the advancing fish. The guide instructed me to wait as the fly sank. 'Strip' came the command and I could clearly see the dark grey shape change direction and home-in on the fly. I continued to strip until the line went tight and the Palometa was on! After a few shakes of the head, the fish headed back to Tulum, relieving the reel of copious amounts of backing and feared that the run might never end. Eventually the fish came to rest but any attempts to retrieve line were met with stubborn resistance and violent tail slapping. Gradually the 6wt claimed the upper hand and fly line clicked through the rod eyes to my great relief. I detected movement behind the fish as it neared the boat and I relayed this to David, our second guide (boats in Ascension Bay are provide with two guides, as wading is often involved and the party can split in two) who jumped into the water to scare off a large barracuda which was in close pursuit of the Palometa. Disaster averted, David tailed the fish and I proudly held my first Palometa.
Palometa on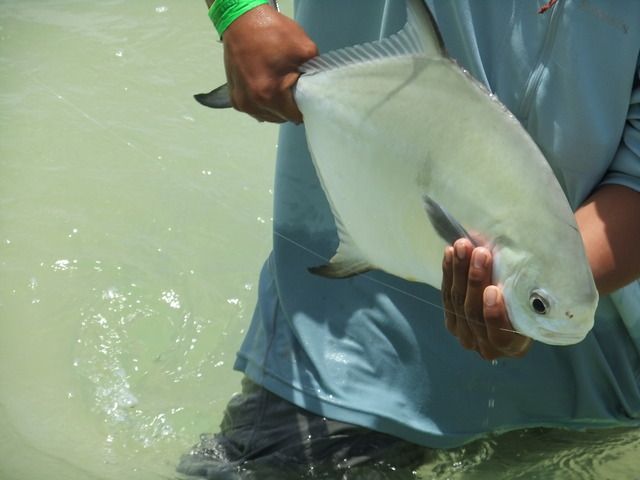 Safely in the guide's hands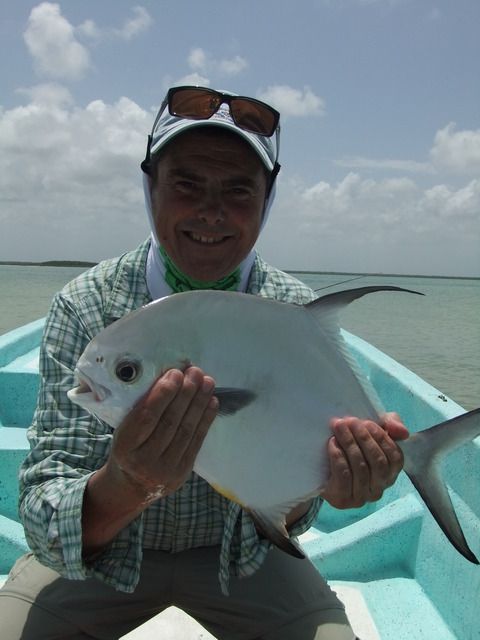 Unfortunately we could not find a tarpon to claim a grand slam before tide and time brought first day proceedings to a close and we motored at speed for Punta Allen. Punta Allen was originally a lobster fishing village but the inhabitants realized that more profit was to be made from fishing for Palometa....by fly. A number of famous lodges have sprung up in the village and surrounds, including the Palometa Club, Casa Viejo Chac, Pesca Maya and Casa Blanca Lodge. A co-operative of guides exists in the village to supply the various lodges, including Casa De Ascension, our home for the next week. The area claims to be the Palometa capital of the world and the village seems dedicated to these enigmatic and desirable fish. A stunning monument to the species was unveiled in Punta Allen the week before our arrival.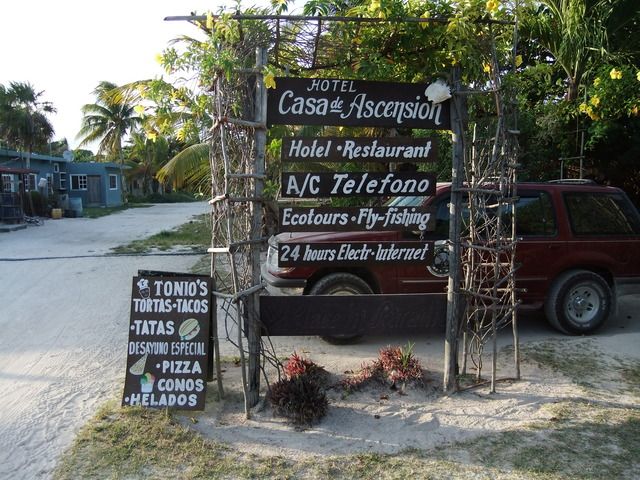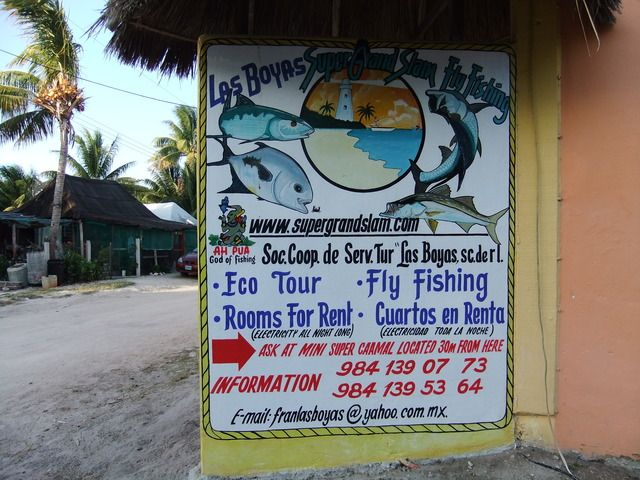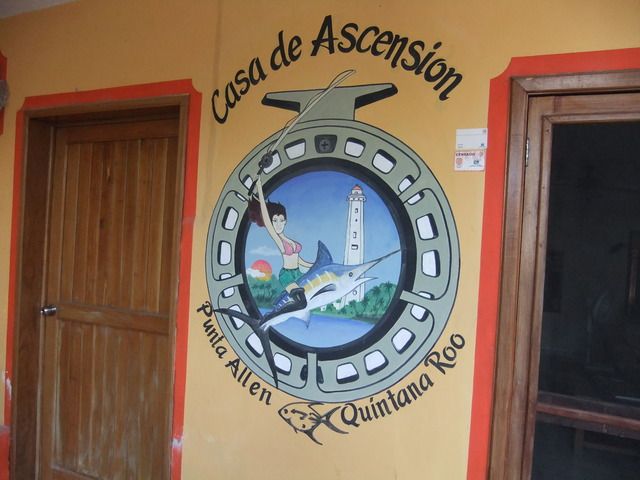 Casa De Ascension is run by American Mike Severin, an amiable and attentive host, ably assisted by Antonio whose traditional Mexican cuisine is the stuff of dreams. Each evening our party would return from the intense heat of a day spent beneath a tropical sun to be welcomed by chilled Sol cerveza and freshly cooked, nachos, pizza or other culinary treats. Dinner was served at 7pm each evening on the roof top terrace to catch the evening breeze.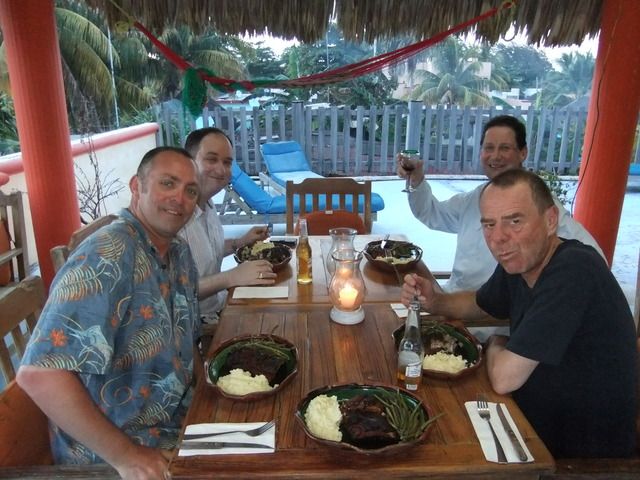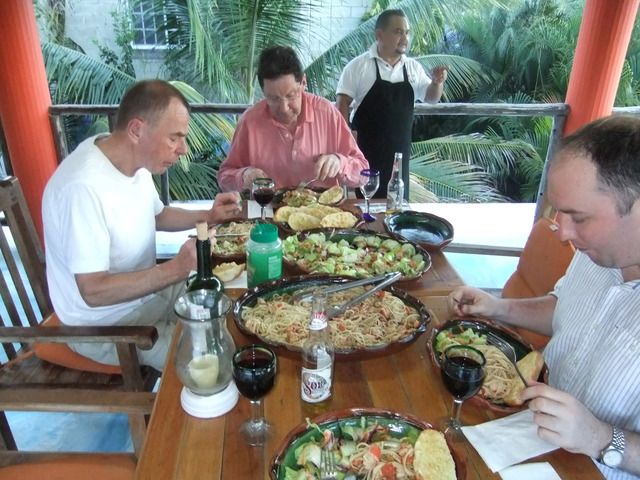 Wine, Sol and various cocktails (all inclusive) were on tap to keep fishy stories spinning well into the hot night.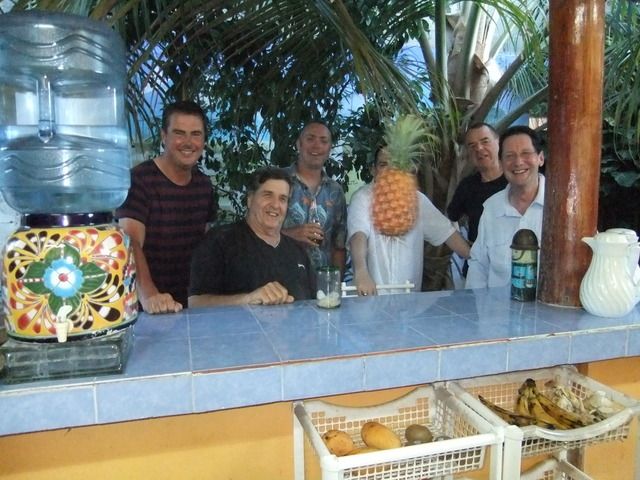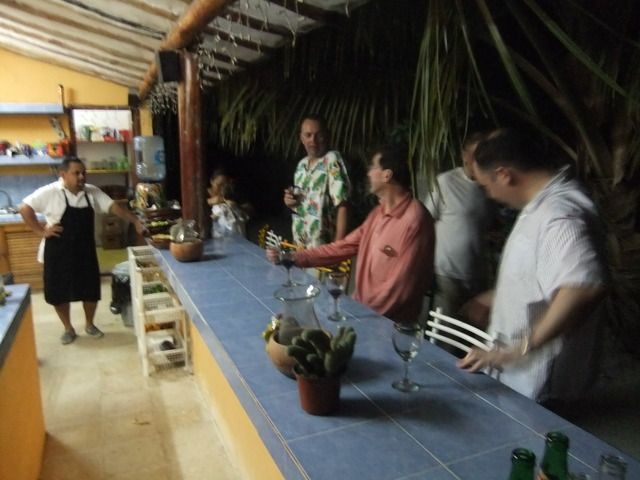 The guides arrived around 7am each morning to escort us to the small harbor.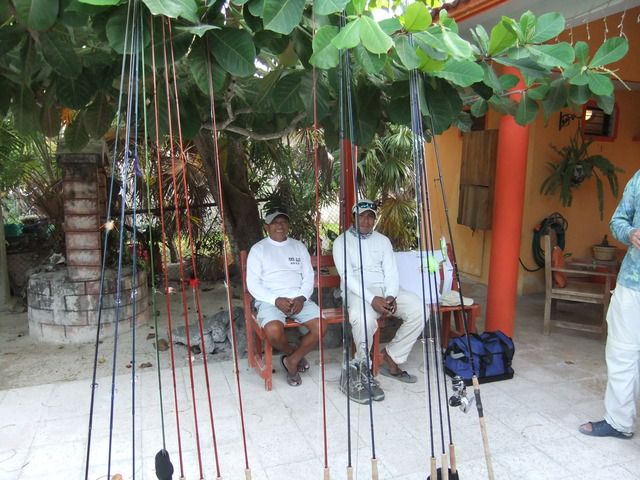 We rotated our boat partner and guides on a daily basis, to keep things fresh and interesting. The guides would enquire which species we would like to target before setting sail. They would smile upon hearing 'bonefish' but their eyes would light-up upon hearing 'Palometa'. With the agreement of my boat partner, the days were spent exclusively in search of Palometta. The days were long and extremely hot, standing on the bow scanning turquoise seas for our prey. Every day brought decent shots at permit, typically moving fish which travelled either alone or in small groups. These fish were in the 15lb to 20lb+ range. Large schools of fish in the 6lb to 8lb range were also encountered.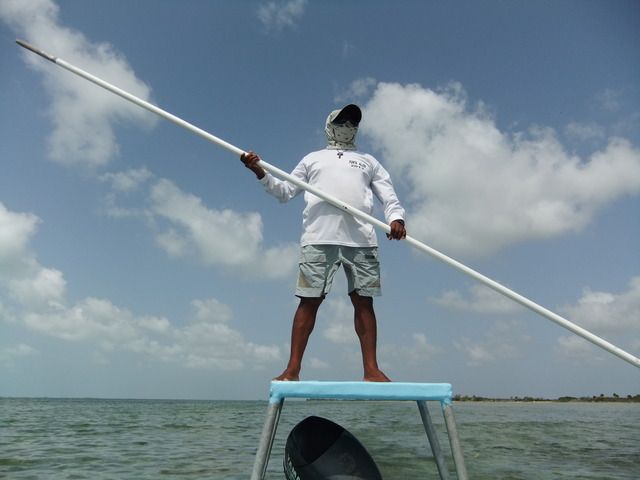 Day 2 saw me partnered with Gavin who was more than keen to target Palometa. We both enjoyed shots at good sized fish and I briefly enjoyed a hook-up with a large fish which hammered an Avalon fly but the hook came free! The day was saved when Gavin connected with an 18lb Cobia, which took a crab pattern. At first we thought the Cobia was a shark and its identity came as a real shock for the guides, who have never seen this species in the bay before.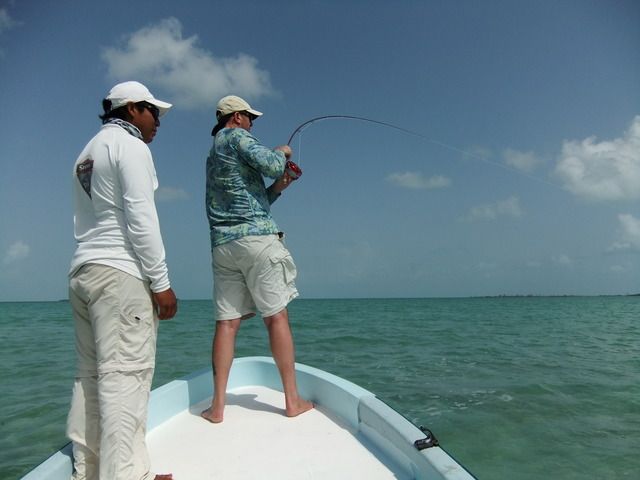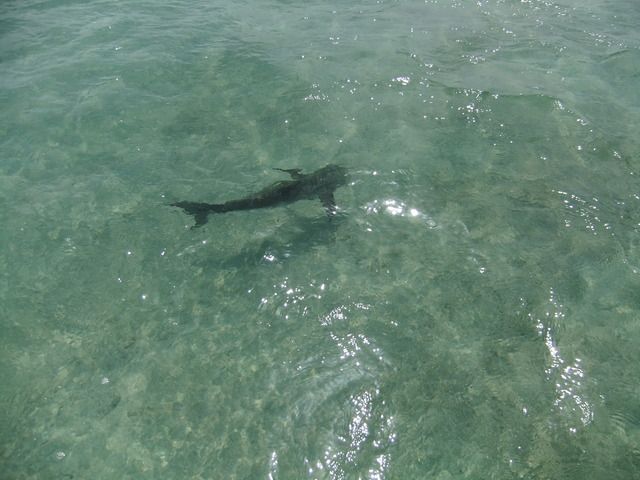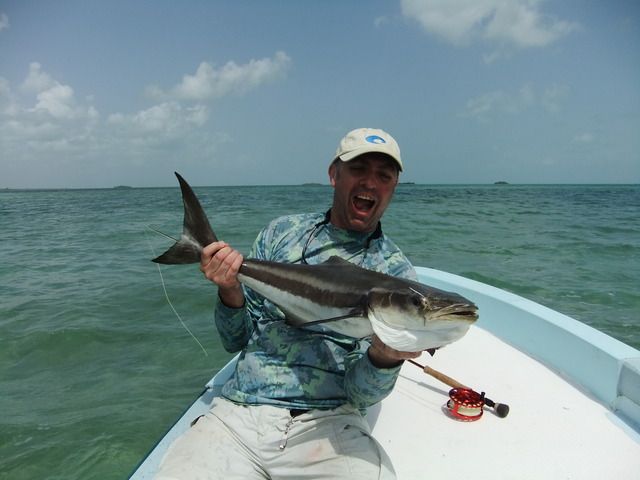 Palometa continued to be the center of attention during succeeding days but despite plentiful opportunity and many near misses the fish remained elusive.
On the final day, boat partner David and I enjoyed several shots at Palometa in a sheltered lagoon but failed to hook up. We decided to spend our final hours fishing for bones in a small bay which contained a huge shoal of fish hammering food of some description. A squimp must have presented a passable imitation and provided an exciting, action packed finale to our trip.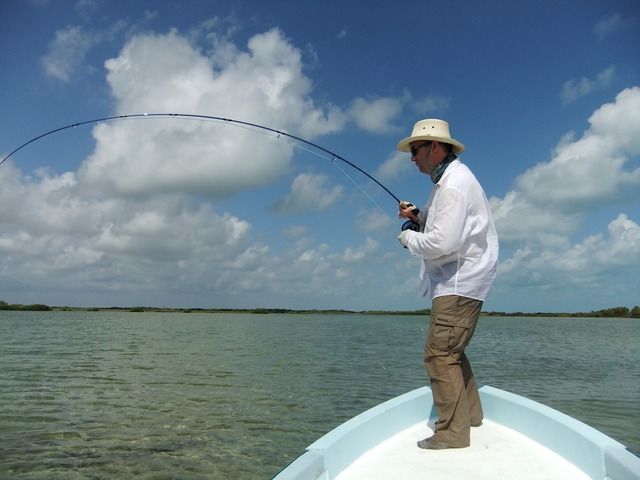 David bends into a lively bone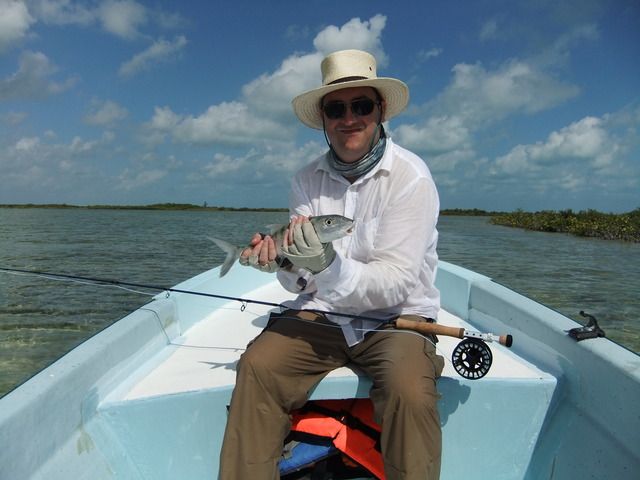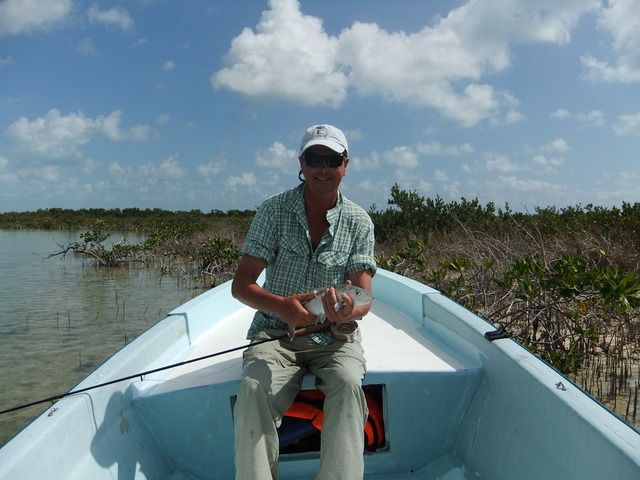 Without doubt I will return to this stunningly beautiful slice of paradise, where the people are every bit as warm as the climate. My thanks to boat partners David and Doug and trip host Gavin for their company and Mike and Antonio for looking after us so well.